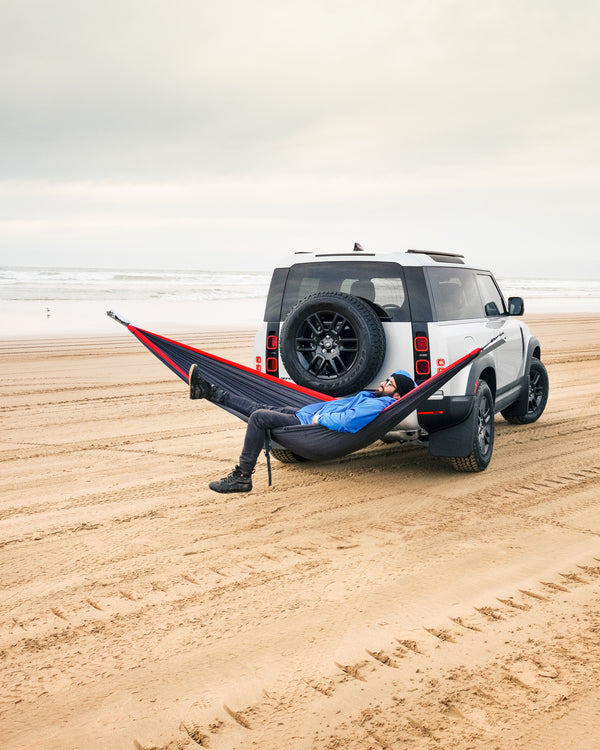 What is the difference between Hammock Mount Models?
One of the most common questions we receive about the Adventure Hammock Systems hitch Hammock Mounts is… "What is the difference between Hammock Mount Models?" or "Which model do I need?" So we put together the following table to help clarify the differences between our original Hammock Mount and the Bare Bones Hammock Mount.
Original Hammock Mount
The Original Hammock Mount is designed to be the ultimate in convenience for mobile hammocking. The folding and telescoping design allows the components to stow into a compact package, yet extend to the full 114" span to hang a standard hammock. It comes standard with premium coatings and materials and is completely self-contained for ease of use. Optional Extended Receiver Tube is available for rear mounted spare tires and custom bumpers that require more clearance. 
The Bare Bones Hammock Mount is designed as a lower cost option with the same great hammock hang-ability from your trailer hitch. The frame portion can remain in your vehicle hitch while driving but the arms must be stowed elsewhere. The base model Bare Bones Hammock Mount- Raw does not include coating in order to keep the cost low; however, powdercoat is available as an add-on option. This model is also offered as the Bare Bones XL kit including arm extensions to accomodate longer hammocks or XL Arm Extensions are available separately as well.
And here's little more info about our other variants:
Summit Hammock Mount: 
The Summit Hammock Mount was excluded from this table because it does not attach to a hitch. Instead it can mount to a roof rack, truck bed, or ground supports. It features a design with folding (non-telescoping) arms and a low profile for height clearance. 
The Tire Stand Accessory is not a Hammock Mount. The Tire Stand is an adapter that allows the user to attach one of our hitch Hammock Mounts to your tire (extended version not recommended for use with this accessory). Below is a collection of images: what is included with the Tire Stand (top), the Tire Stand attached to a tire (middle) and how it is setup when a Hammock Mount is installed in the Tire Stand (bottom).
We hope this helps provide some clarity into our product line and becomes an aid for you when deciding how to set up your hitch-mounted hammock experience!